FeNOM Iron Eater athletes are men and women that embody the Iron Eater lifestyle. They perform a variety of exercises such as bodybuilding, functional fitness, and powerlifting. It is our desire to provide work out clothes that will hold up to the exercise our athletes perform. Bench press, deadlift, snatch, squat; they do it all and our workout clothes stand up to the toughest workouts.
ARIEL STEPHENS
USA Weightlifting - 69kg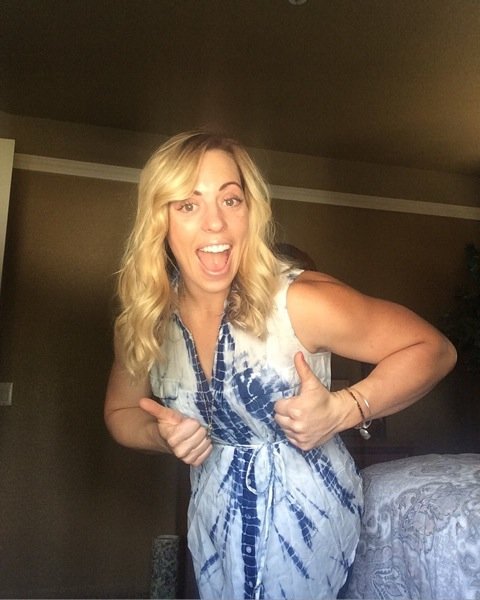 Ariel was born and raised in Woodland, CA where she grew up playing basketball, soccer, volleyball, swimming competitively, and cheering. She took a special interest in swimming and worked hard through high school to earn a partial swim scholarship for the University of Hawai'i Manoa. Ariel swam for UH from 2008-2012 and retired from swimming shortly after graduation in 2012. Ariel was set to start in the Peace Corps in 2013 to be placed somewhere in Latin America. However, she began Weightlifting and quickly fell in love with the sport. Knowing that she was in her early 20's, she decided to pursue her potential in Weightlifting before adventuring with the Peace Corps.

In the short amount of time that Ariel has been involved in Weightlifting, accompanied by a series of injuries, Ariel has accomplished a lot in the sport. Moving around the country to follow her dreams, she has managed to collect multiple National medals, win the 2014 American Open, compete for Team USA in the 2015 China Grand Prix, and qualify for the 2016 Olympic Trials.
Ariel is motivated by her passion to be better at everything she does in and out of the gym. Whatever Ariel does, she does it with her whole heart. She is dedicated to herself and to those who support her. Ariel is excited to be part of the FeNom Team!


Kat Grillo is our resident teacup athlete. She's just like the rest of us, only compacted and condensed for maximum power and cuteness. Asking her why she does what she does (I.E. outlift you, your mom, your dad and your weird uncle combined) she'll tell you, "so I can eat a lot." She's not a complicated woman. She surrounds herself with people who will motivate and inspire her, and in return she provides an unrelenting push that will bring new pr's and new milestones. She's our firecracker; we love her for it.
JAMES GOLD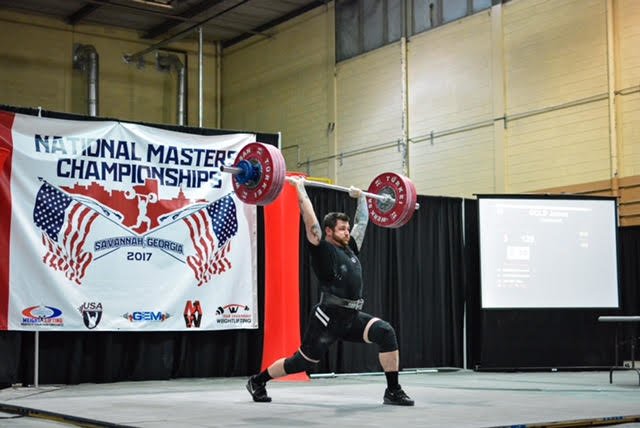 Lived in Apex NC from 1981 to 2001. Live in raleigh currently. Been a master technician for 20+ years. Metal fabricator. Joined athletic Lab in 2011 doing crossfit were I competed on the Advanced Team. Decided I liked Weightlifting way more. Started weightlifting in 2014. Won a bronze medal at American Masters in GA 2015. Won Silver at NC state championships 2016 and won Gold and went 6/6 at Pan Americans in 2017. Currently starting training for AO series 3 and Worlds in Barcelona Spain 2018. I train at Crossfit Oceana and Athletic Lab. I'm a team motivator. I semi Coach weightlifting when I see horrible lifting. 😂😂

TERESA KIEL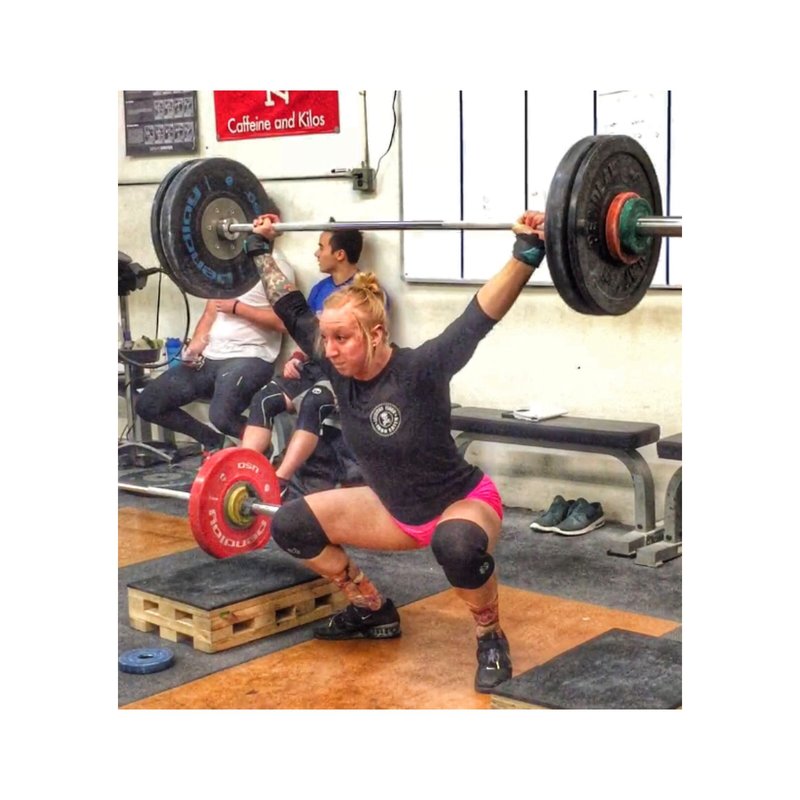 Teresa Kiel is from a small suburb of northeast Philadelphia. She did 13 years of competitive gymnastics before joining the Navy in 2006. She found a love for CrossFit while deployed in 2013, but made the switch to Olympic Weightlifting in 2015. She has competed locally
in Hampton Roads
, including the RVA Open, RUFIT, and at
her first national meet at
the USAW American Open
in
2016. Her goal is
to qualify for USAW Nationals. She has been active duty for 11 years and plans on making it a career. She lifts out of CrossFit Rife with the Barbell Syndicate Weightlifting Team
. You can count on her to have a huge smile and open heart! Lift, laugh, love!
DANIELLE KEARNS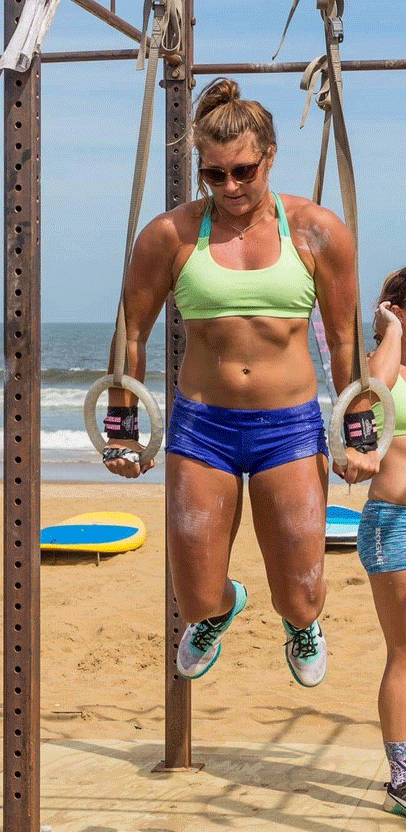 Photo by Charlotte Foerschler, @charlottefoerschlerphoto (Insta), Charlotte Foerschler Photography (FB)
I grew up in Connecticut and moved to Virginia to attend Lynchburg College for Exercise Physiology. Right after graduating (2015), I came to Newport News for my current job at Tidewater Performance where I coach athletes and general population towards their performance, fitness, and health goals through individualized training programs and nutrition plans. I love helping people reach their fullest potential in their sport, health, or life through balancing fitness and healthy eating. I work out at Crossfit Oyster Point and am Co-Captain of our Regional training team, OPGrit.
JILLY HAWKINS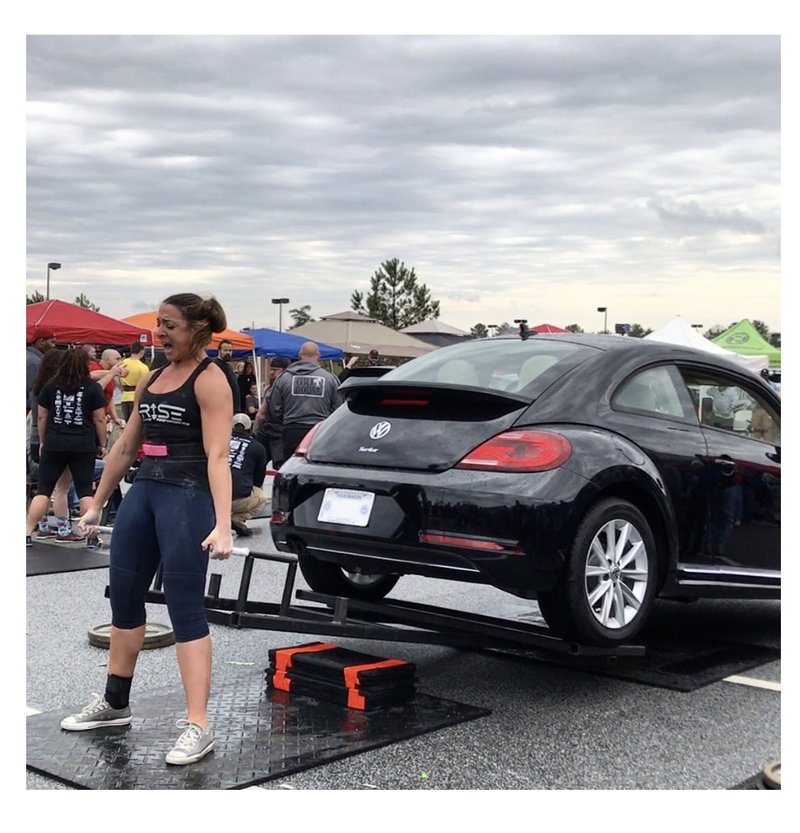 I'm Jilly Hawkins - a personal trainer, group fitness instructor, and online coach in Gainesville, GA. I've been involved in bodybuilding for almost five years now and just made the switch over to competing in strongman in the Fall of 2016.
Placing 2nd in my first competition and then 1st in my most recent competition - strongman is where my passion lies - because let's be real here, being and feeling STRONG is badass. Deadlifting cars, flipping tires, pulling trucks, carrying 400+ on your back, pressing logs overhead, and loading stones onto platforms is freaking fun!
What's next for me? I have been focusing on increasing strength and stamina to return to compete in the middleweight division and qualify for nationals in the 2018 strongman season. The sport is growing so fast, which gives more women the opportunity to get involved and push yourself past your limits.
JENNA OLIVER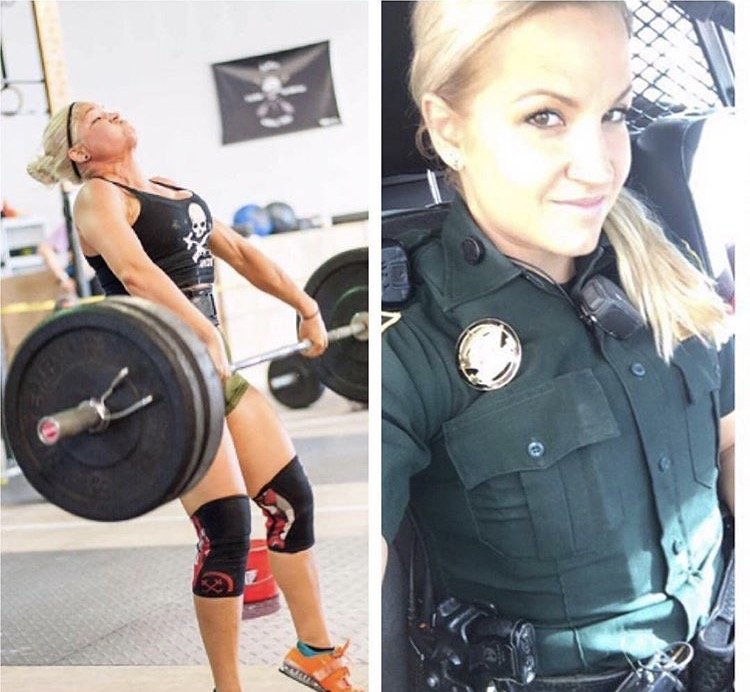 Grew up in Niceville, Florida and played softball, weightlifting, gymnastics, soccer and golf as a kid all the way through the teen years.
Currently reside in Fort Walton Beach Florida where I own my gym, CrossFit Above The Bar as well as coach and train as a competitive CrossFit athlete/Olympic weightlifter. I hold several certs as a coach to include:
CrossFit Level 1

CrossFit Level 2

CrossFit Olympic Lifting

CrossFit Gymnastics

CrossFit Movement and Mobility

CrossFit Judge's Course 14′,15′,16′,17′

Garage Games Accredited Judge's Course

36 Hrs of Olympic Lifting through "Lift More Olympic"

CrossFit Scaling Course
On top of the business I am a full time Deputy Sheriff for Okaloosa County Sheriffs Office for 11+ years.
But the biggest job of all is being an awesome Mom, that's able to keep up with my 9 year old son, Colten.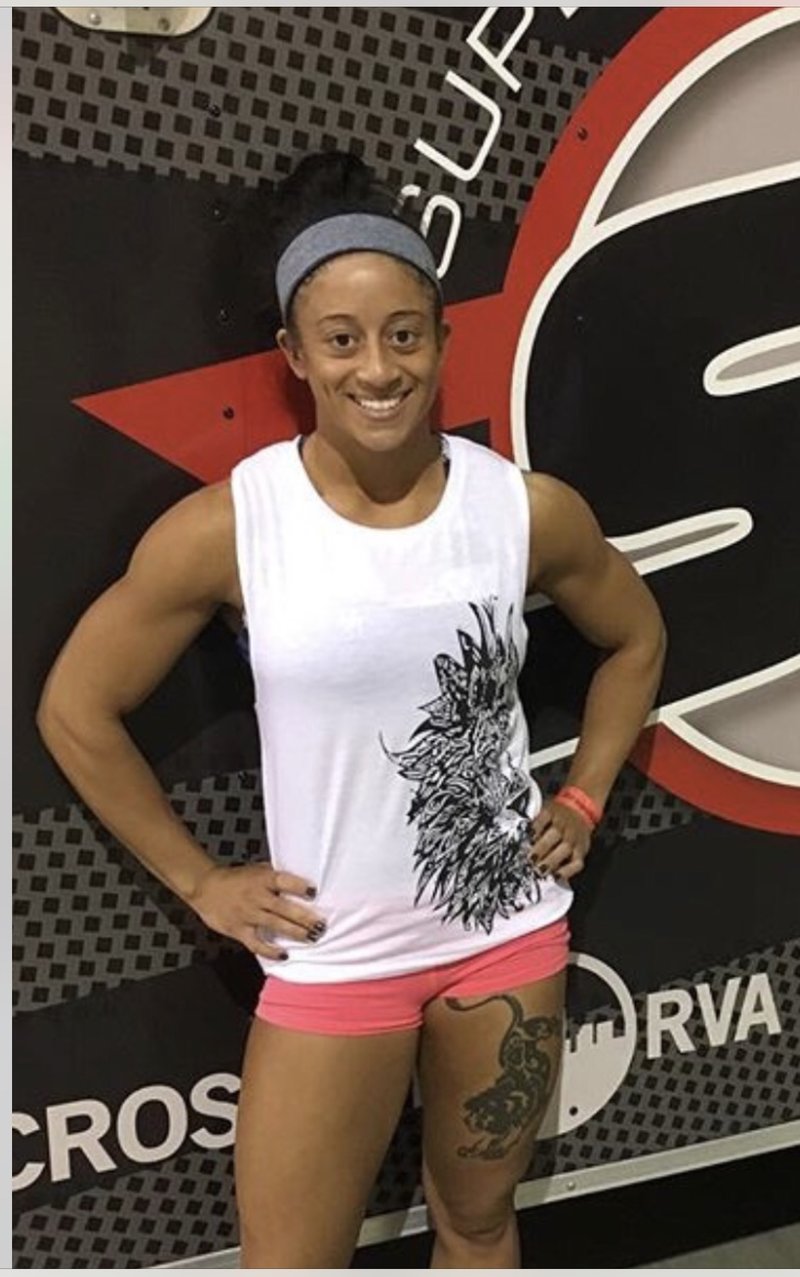 I'm 25 years old, from Stuart, VA. I started out competing at a young age. I played every sport including: dance, basketball, soccer, softball, and cross-country. Once I started high school I played varsity and travel softball and ran XC for four years. Being the competitive athlete that I am, at the age of 12 I started weightlifting and continued throughout high school. Once I moved onto college I played collegiate softball for two years. During my second year I tore my labrum in my right shoulder and had to quit the sport. While doing physical therapy I continued to run long distance, but knew I wanted to get back into the weight room. I was sitting in class at RU listening to the lecture in my Adv. Strength & Cond. class and CF athletes popped up on a slide. I found out there was a CF class on campus and that was the beginning. All it took was one workout and I was hooked! 4 years later and I'm competing in every CF competition I can, all while coaching my CF Kids class. Being able to touch the lives of kids through CF is truly the best part of my day. I am blessed that my finances allow me to focus on competing in the sport I love, coach the sport I love, and nanny for a family that not only cares for me, but also treats me in Chiropractic care. CrossFit has changed my life and I love every part of it!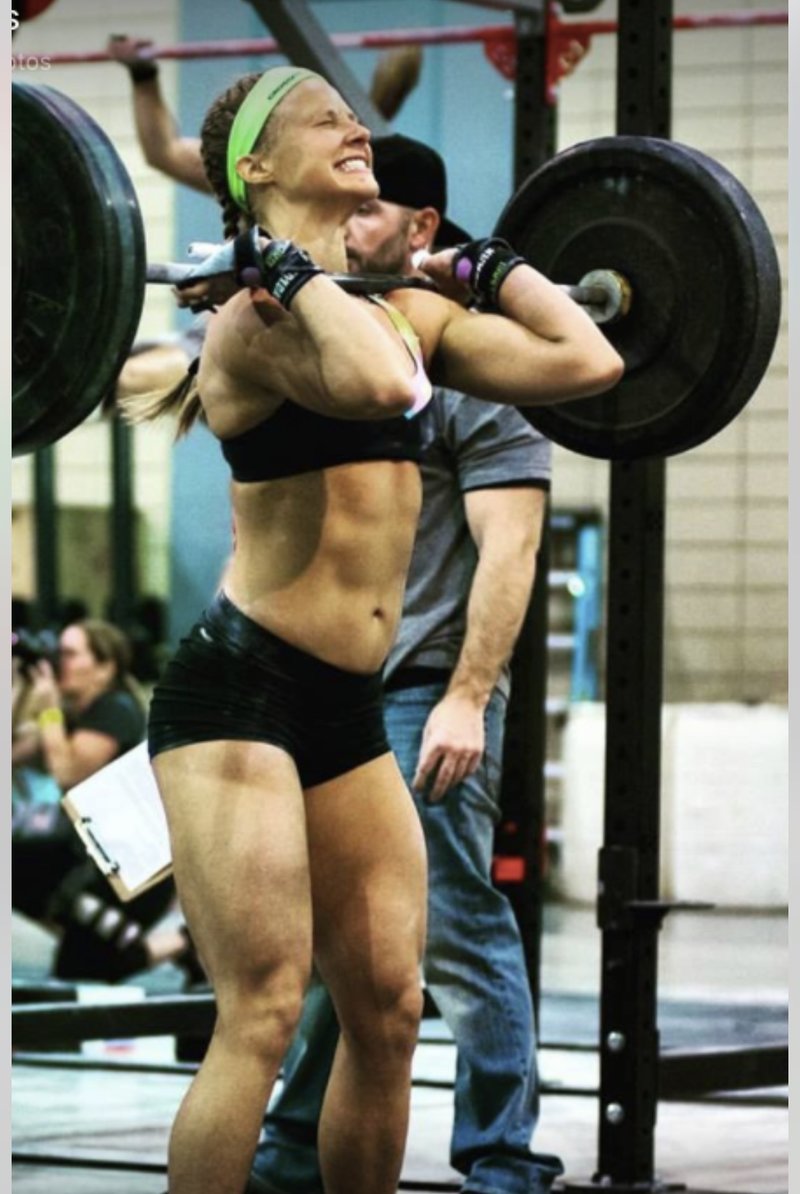 Sarah grew up in the small town of Currituck, North Carolina where she was involved in various sports such as all star cheerleading, tumbling, softball and MMA. In 2007 she sustained a pretty serious neck injury requiring surgery and a long road to recovery. Feeling like she was blessed beyond belief to have eventually recovered fully, she decided to take full advantage of her recouped strength and mobility. She found CrossFit upon moving to Charlotte, North Carolina for college and immediately fell in love with the competitiveness of the sport. She currently lives in Raleigh, North Carolina where she trains at and competes for CrossFit Embark. Sarah's top three reasons to CrossFit: 1. you become strong physically and mentally 2. you can inspire others 3. you get to eat A LOT!
KATY DAVIS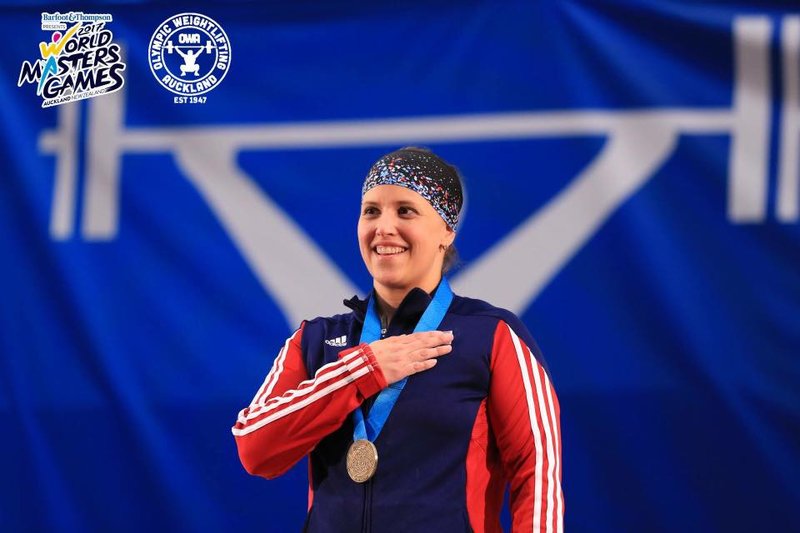 I grew up in Marion, Iowa and was a competitive gymnast until high school and was a cheerleader and track athlete in college. After college I moved to Texas and stopped being an athlete. I gained a lot of weight and really struggled to find my self worth. After having my first daughter and moving back to Iowa, I decided that enough was enough and decided to find my inner athlete. I started as a runner, then transitioned to Crossfit and became a competitive crossfitter in 2011. After having my second baby in 2014, I struggled to find my motor in returning to Crossfit. The weightlifting aspect of Crossfit was always my favorite, so in April 2015 I gave up the cardio aspect and became a dedicated weightlifter. I compete primarily as a Masters 69 kilo lifter, though I have been lucky enough to be able to qualify for Senior events as well. In April of 2017 I traveled to New Zealand for the World Masters Games and became the womens 35-39 year old 69 kg World Champion! My goal is to continue to find myself through my weightlifting, but also to show my daughters how awesome it is to be a strong woman!
BLAKE SEWELL
Blake Sewell is our token big tough guy. We like to compare him to a grizzly bear because in competition he's huge, aggressive and in attack-mode. Outside of competition he's a dedicated Navy man, a loyal husband, an adoring father and a supportive training partner. Blake is our go-to guy to get pumped up. Going for a big PR? You can trust Blake to blast the music, yell encouragement and maybe even bark a little.
LAURA BLIGH
Laura Bligh used functional fitness to find her own identity again after giving up a career and several homes to follow her Army husband. She approaches training and competing with a never settle mindset and believes a strong mental game is as important as a big squat (but seriously you can never squat enough).